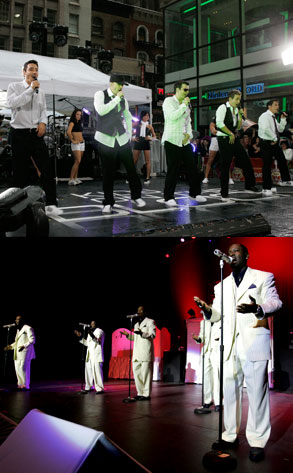 Filed Under:
Older
Men on the Street and
Older
Chapter
Looks like both band s are having a hard time selling tickets on their own so what's the next best thing? Team up? It's kind of awkward to see women in their 30's and 40's singing along and swooning to hits like Cand y Girl, but it's even stranger to see a 40-year-old Ralph Tresvant singing it (laugh).
The reunited New Kids on the Block have teamed up with the reunited New Edition
"Donnie Wahlberg, who has watched his kid brother Mark Wahlberg become one of Hollywood's top paid actors while NKOTB fizzled, had this idea for a few months, looking for that one track for all of them," producer Nadir "RedOne" Khawat tells People. "And I think we found it. The track, "Full Service," was recorded last week and is set to appear on NKOTB's upcoming album.